Random Items Rain Data Pack 1.20.2 – Raining Items in Minecraft
Random Items Rain Data Pack 1.20.2 is impressive addition to Minecraft. It will be adding raining items in your world. Whenever you will open and load this Data Pack, It will be raining items in your Minecraft world. This Data Pack have been developed by the Awhikax.
This Data Pack is an unique modification that will be allowing the players to get random items in their Minecraft world by just reloading this Data Pack. You will just have to jump a few times in order to gain the items. But items will be specific like mysterious ones. By saying mysterious items, You will be getting mind blowing items like swords, weapons, tools and loot. It will be very enjoyable to play with the friends, You can also create server and play with your friends.
Random Items Rain Data Pack Changelogs:
Simple changelogs.
Provides Random Items.
By Jumping a few items.
If you jump ten times, you will be getting ten unique items.
Random Items Rain Data Pack Settings:
A Simple Data Pack does not require many settings.
Reloading the Data Pack.
/reload
Finding Data Pack list.
/datapack list
Images: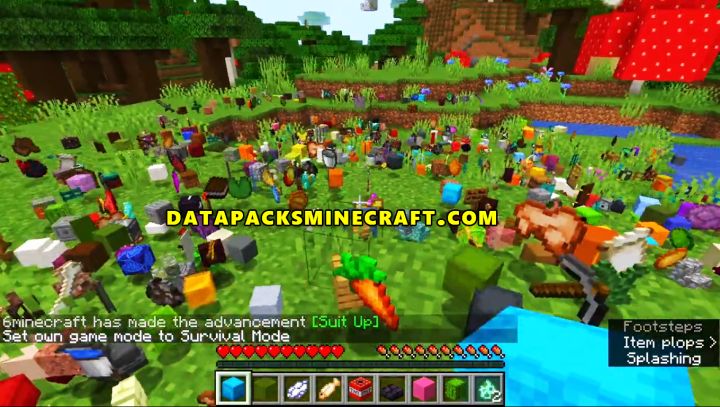 Random Items Rain Data Pack Installation:
Download this Data Pack.
Create a Minecraft World.
Save the Minecraft world.
Click on single player then select the world you've saved.
Click on the saved world and then open worlds folder.
Open the Data Packs folder.
Move your downloaded file into data packs folder.
Open Saved world.
Press /reload.
Data Pack will be working.
Similar Data Packs.
Random Items Rain Data Pack Installation and Game Play:
Download Give Random Items Data Pack:
For Minecraft 1.19.2:
We recommend you to Install OptiFine for this Data Pack to make your world look better with shaders. It will also boost your FPS
Disclaimer:
We usually provide the links that have been given by the original developer, We also do take good care of the download that will be available here. But sometimes the original developer remove their download links from the third party websites. In that particular situation we may need your assistance in order to find and fix the available download links. So you can Please inform us that a specific link have been broken that may required to be fixed. We will try to update the working links as soon as possible. Our team will also do try to update these links frequently and we do update that links regularly. We also do take care of links that do not have virus in them. We can guarantee that our download links will not have any viruses in them. Our aim is to provide genuine links for each and every content.