Nullscape DataPack for (1.20.2 – 1.19.4) Improved End's Generation
Nullscape DataPack for 1.20.2 have been designed to make your end's generation revamped to make it look better. It will also maintain their identity to provide realm of pure desolation. You will also feel yourself tiny and alone while you are at the end. This DataPack have been designed to upgrade and make your world generation to have better perspectives. While providing tall structures within the game. It have been originally developed by the Starmute.
Nullscape will be also boosting the end height to a record 384 blocks. You will also be getting modern characteristics to generate fabulously diverse terrain. You will be able to find everything that will be floating islands, shattered islands and crystalized peaks. There will be a terrain that will be completely based on science materials. Many precious and small terrain will be stretched and improved to make them interesting and genuine. The End will be based on one dimension, It was before based on the two dimensions within the game. You can also use shaders in order to bring brightness in the game.
Nullscape Data Pack Changelogs:
Upgraded The End.
Improved World Generation.
Terrain have been designed to look better.
Terrain will have long structures and tall heights.
Shattered islands and floating islands.
Modern features and varied structures for the Terrain.
Stacked Rounded Islands and Stretched Alien Landscapes.
Boosted The End height to a record 384 blocks.
It will be based on only One dimension from now on.
Nullscape Data Pack Settings:
Two commands will be needed for this DataPack.
Reloading your DataPack?
/reload
Want to check the DataPacks Working?
/datapack list
Have fun and enjoy playing this DataPack.
Images: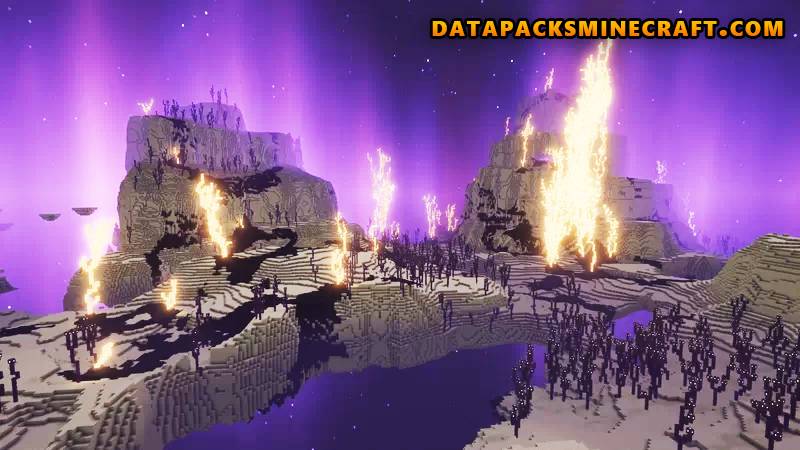 Nullscape Data Pack Installation:
Required Resource Pack only for Servers.
Download this Data Pack.
Create a Minecraft World.
Save the Minecraft world.
Click on single player then select the world you've saved.
Click on the saved world and then open worlds folder.
Open the Data Packs folder.
Move your downloaded file into data packs folder.
Open Saved world.
Press /reload.
Data Pack will be working.
Download Nullscape Data Pack:
For Minecraft 1.19.2:
Disclaimer:
We usually provide the links that have been given by the original developer, We also do take good care of the download that will be available here. But sometimes the original developer remove their download links from the third party websites. In that particular situation we may need your assistance in order to find and fix the available download links. So you can Please inform us that a specific link have been broken that may required to be fixed. We will try to update the working links as soon as possible. Our team will also do try to update these links frequently and we do update that links regularly. We also do take care of links that do not have virus in them. We can guarantee that our download links will not have any viruses in them. Our aim is to provide genuine links for each and every content.